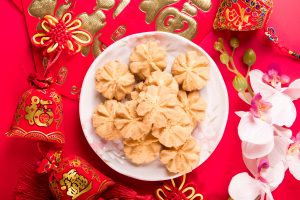 Why should we consume wisely during this Chinese New Year and how it could affect our health goals?
During the festive period (Christmas to New Year, and Chinese New Year soon after), we tend to have many gatherings and eat as a social activity. This often leads to weight gain and health risks associated with weight gain.
A tip: Try to organise gatherings which also involves physical activity e.g. a walk or hike instead of only meeting for a meal.
What are the healthier options for these common snacks?
1. Pineapple tarts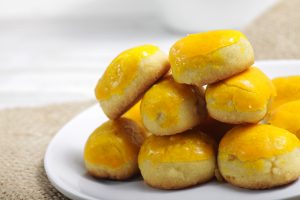 Try tweaking the recipe and making your own pineapple tarts – replace the sugar in the jam with an equal amount of a replacement sugar e.g. erythritol/monk fruit that can be used similarly to sugar. This way, you can make the same amount but with no calories or carbohydrates added, except for the natural sugar in the pineapples. You can also omit the sugar in the pastry as the pineapple jam already is sweet enough.
A good option for a Chinese New Year dessert is Mandarin oranges. Enjoy this sweet and tangy fruit without worries!
2. Bak Kwa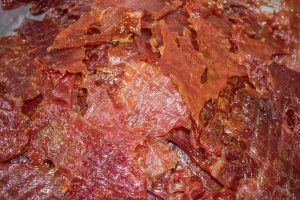 Try to cut these into thin strips (similar to meat jerky) and limit yourself to a few pieces. These are very high in calories and fat (oil), so the fewer, the better!
3. Fried prawn rolls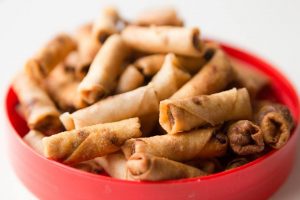 Limit consumption to only a few pieces, as these are deep-fried and are not a good source of protein. Instead, include fresh prawns in your steamboat. Contrary to popular belief, prawns/shrimp are healthy, as they are a good source of protein, and contain omega-3 fats. Just try to prepare the prawns in healthier ways instead of frying them.
4. Peanuts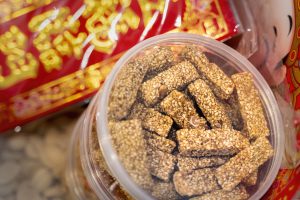 Replace these with roasted, unsalted nuts instead. Some nuts are very rich in monounsaturated fats (e.g. almonds, macadamias) and are good sources of omega-3 fats (e.g. walnuts).
Of all the traditional Chinese New Year snacks, nuts are the best option for diabetics, as all other snacks are high in carbohydrates. Eating good fats instead of saturated fat lowers the "bad" LDL cholesterol, and it improves the ratio of total cholesterol to "good" HDL cholesterol, thereby lowering the risk of heart disease.
5. Nian gao (sweet rice cakes)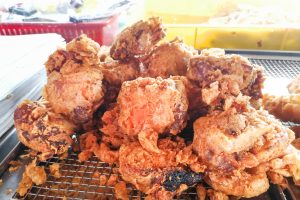 These are high sugar, high-calorie foods. They don't provide much in terms of nutrients. Traditionally, it might be dipped in egg or corn starch and deep-fried, sometimes with yam and sweet potato. Try to cut these into thin slices, and if frying, use a healthier cooking oil such as rice bran oil, soybean or groundnut oil. Alternatively, you could steam the nian gao, and coat it with some grated coconut.
6. Kueh lapis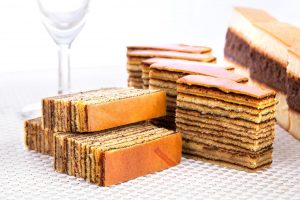 Kueh lapis is one of the 'must-have' foods in many households. It is very high in protein (due to the egg), and sugar content. Try to slice kueh lapis thinly, into mini slices, so you will end up eating less (hopefully!)
Remember, enjoy your Chinese New Year festivities and delicacies, but everything in moderation. Don't forget to drink more water (no sweetened drinks, please) as well to keep yourself hydrated in the hot weather.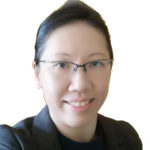 Ms Suzanne Khor
Principal Dietitian
SBCC Baby & Child Clinic (Asthma, Lung, Sleep, Allergy & Paediatric Centre)
Nobel Gastroenterology Centre (Gleneagles Medical Centre)
Nobel Gastroenterology Centre (Mount Elizabeth Novena)
Our Specialist
Suzanne Khor has been practising as a clinical dietician for the past 18 years. She obtained her postgraduate degree (Masters of Health Science Education) from the University of Sydney Australia. Her special interests are nutrition in feeding difficulties, diet therapy for neurological disorders, eating disorders and weight management.