General Practitioner and Family Medicine
We provide affordable, quality healthcare at more than 50 General Practitioner (GP) clinics across the island, under the Healthway Medical and Silver Cross brand names.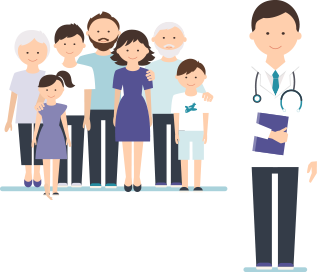 Our Psychiatrists and Psychologists provide psychological services which include counselling, psychotherapy and psychological assessments, to help clients improve their psychological well-being.
Our paediatric surgeon at Nobel Paediatric Surgery Centre is dedicated to providing personalised surgical care for your child. We specialise in surgical procedures for children, from newborns to teenagers.
As part of our national efforts to encourage the population to get vaccinated against COVID-19, Healthway Medical will be offering COVID-19 vaccines at selected GP clinics.
Executive Health Screening
Getting a health assessment can uncover key insights about your current health status, as well as identify any future risks for early intervention.
SBCC Baby and Child Clinic is a paediatric group that provides quality and comprehensive medical services for children in Singapore.
At Healthway Medical, we provide several COVID-19 tests at selected GP clinics to assess and mitigate the spread of the virus.
Island Orthopaedics has a team of orthopaedics, sports surgeons and physicians who provide a wide spectrum of orthopaedics and trauma services.
Healthway's dental care specialists work collaboratively to put you at ease, while achieving optimal oral health and a beautiful smile.
Gastroenterology & Hepatology
Nobel Gastroenterology Centre offers diagnostic and therapeutic services to diagnose and treat a wide range of conditions of the oesophagus, stomach, intestines, bowels, liver, pancreas, and biliary systems.
The Nobel ENT Centre manages and treats a full spectrum of common ear, nose & throat, and head & neck conditions faced by patients of all ages.
SBCC Women's Clinic offers a comprehensive range of services including general gynaecology services and obstetrics care, as well as women's screening packages.
The Nobel Heart Centre provides a holistic suite of services in cardiovascular disease diagnosis, management, treatment and prevention.
Healthway Japanese Medical & Dental
Healthway Japanese Medical & Dental has a dedicated team of Japanese doctors, dentists, mid-wife and staff focused on delivering medical & dental services to our Japanese patients in Singapore & the surrounding region.
Nobel Eye & Vision Centre focuses on preventive eye care and provides personalised medical treatment according to patient's specific vision care needs, age, lifestyle and health condition.
Book An Appointment Today