Empowering Healthier Lives through Government Healthcare Schemes
Sometimes during a chronic illness, patients find it hard to pay their medical expenses. That's why we, at Healthway Medical, are willing to help resolve this situation by providing affordable healthcare and adult vaccination clinic for the community. We have programs such as the Community Health Assist Scheme and MediSave to help people with illnesses and their families understand their treatment options, find the financial support they need and apply for benefits.
Empowering Healthier Lives Through CHAS
Healthway Medical is proud to be a participating CHAS GP and dental clinic that provides affordable and quality healthcare. Since 1 November 2019, all Singaporeans are benefiting from CHAS. It's extended to cover chronic conditions for all Singaporeans, with the introduction of the CHAS Green tier, in addition to the existing Blue and Orange tiers.
The Blue and Orange tiers enjoy an increase in subsidies for complex chronic illnesses while Orange tiers get additional subsidies for common illnesses.
Merdeka Generation cardholders will also receive subsidies under CHAS.
Here's a comprehensive guide to what benefits are available, depending on your circumstances and eligibility. For more information, visit our CHAS accreditedclinics today!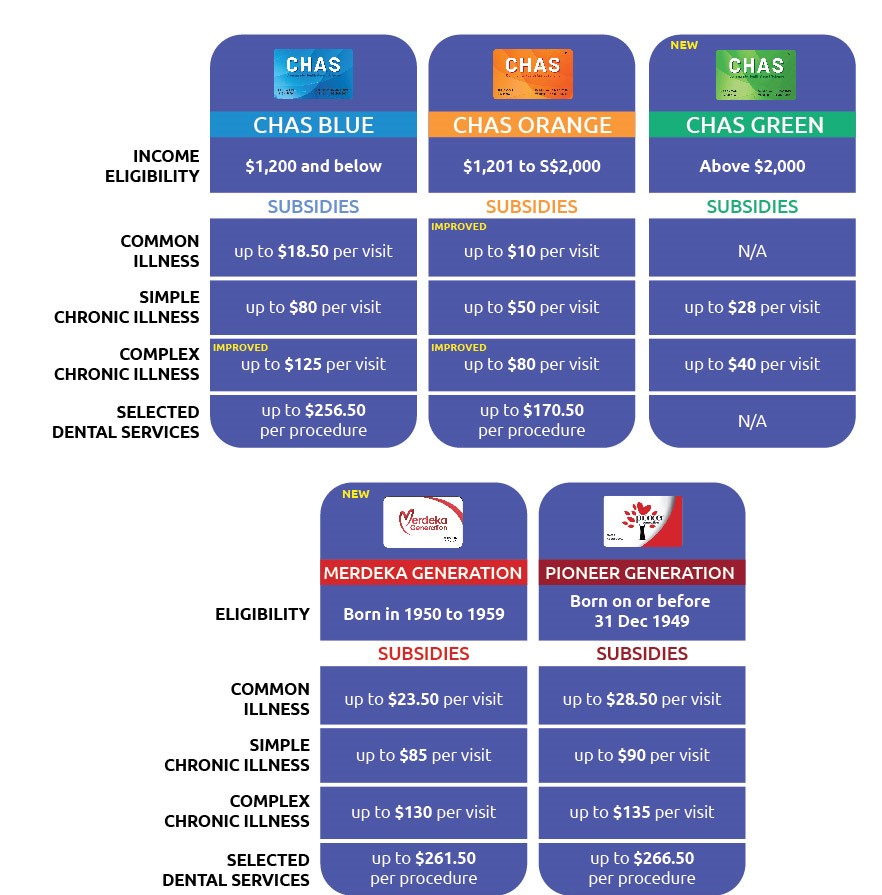 Source: CHAS
Empowering Healthier Lives through MediSave
Designed to give patients utmost care and convenience, MediSave covers outpatient care at Healthway Medical clinics under the following schemes:
1) MediSave500
With the MediSave500 Scheme, you can use up to $500 per MediSave account a year on the following treatments and services at our Healthway Medical clinics:
A) National Adult Immunisation Scheme (NAIS)  
Up to $500 a year of your MediSave500 can be used to cover all recommended vaccinations in the NAIS. Below are the vaccinations for adults that we provide: 
Influenza*

Pneumococcal vaccinations*

Human Papillomavirus (HPV) (for females between 9 and 26 years of age)

Cervarix

Gardasil (4-valent HPV vaccine)

Hepatitis B vaccination

Measles, Mumps, and Rubella (MMR)

Diphtheria, Pertussis & Tetanus (DTaP/Tdap)

Varicella 
Contact our adult vaccination clinic for more information. 
B) Chronic Disease Management Programme (CDMP)
Up to $500 a year of your MediSave500 can be used to cover outpatient treatments of the following 20 conditions under the Chronic Disease Management Programme (CDMP) (subject to 15% co-payment by patient):
Diabetes mellitus

Hypertension

Hyperlipidemia (lipid disorders)

Stroke

Asthma

Chronic Obstructive Pulmonary Disease (COPD)

Schizophrenia

Major depression

Bipolar disorder

Dementia

Osteoarthritis

Benign prostatic hyperplasia

Anxiety

Parkinson's disease

Nephrosis/Nephritis

Epilepsy

Osteoporosis

Psoriasis

Rheumatoid arthritis

Ischaemic heart disease
2) Flexi-MediSave
Patients aged 60 and above can further reduce their out-of-pocket costs for outpatient medical care through Flexi-Medisave. Each patient will be able to use up to $200 of Medisave a year for outpatient treatment at all Healthway Medical clinics, all of which are CHAS-accredited.
Outpatient medical treatment payments can be withdrawn from your own or your spouse's MediSave account, capped at $200 a year for each patient. Both should be aged 60 and above for the patient to tap on the spouse's MediSave Account
Source: Medisave